Sale!
Cetus 3D Printer MK3 (Four Versions)
Tax not included (will be applied during checkout).
USD$ 319.00 – USD$ 649.00
Cetus 3D Printer MK3 is the latest version of Cetus3D Printers. Inherited classic features from Cetus MK1 & MK2, we make it an upgradable 3D Printer. 4 Versions (two basic versions and two deluxe versions) are provided for your choice. Basic versions do not include heated bed or auto-leveling probe, while Deluxe version have them all provided.
Cetus 3D Printer MK3 - Four Versions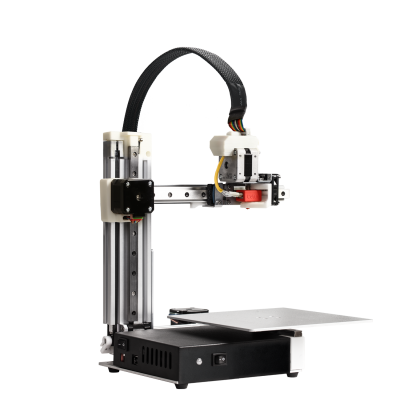 Build Volume:180(L)x180(W)x180(H) mm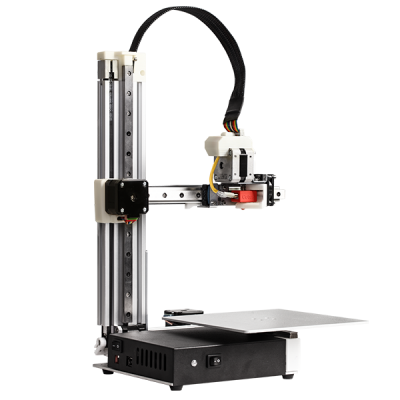 Build Volume:180(L)x180(W)x280(H) mm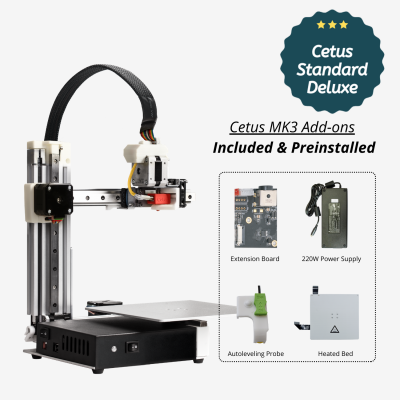 Build Volume:180(L)x180(W)x180(H) mm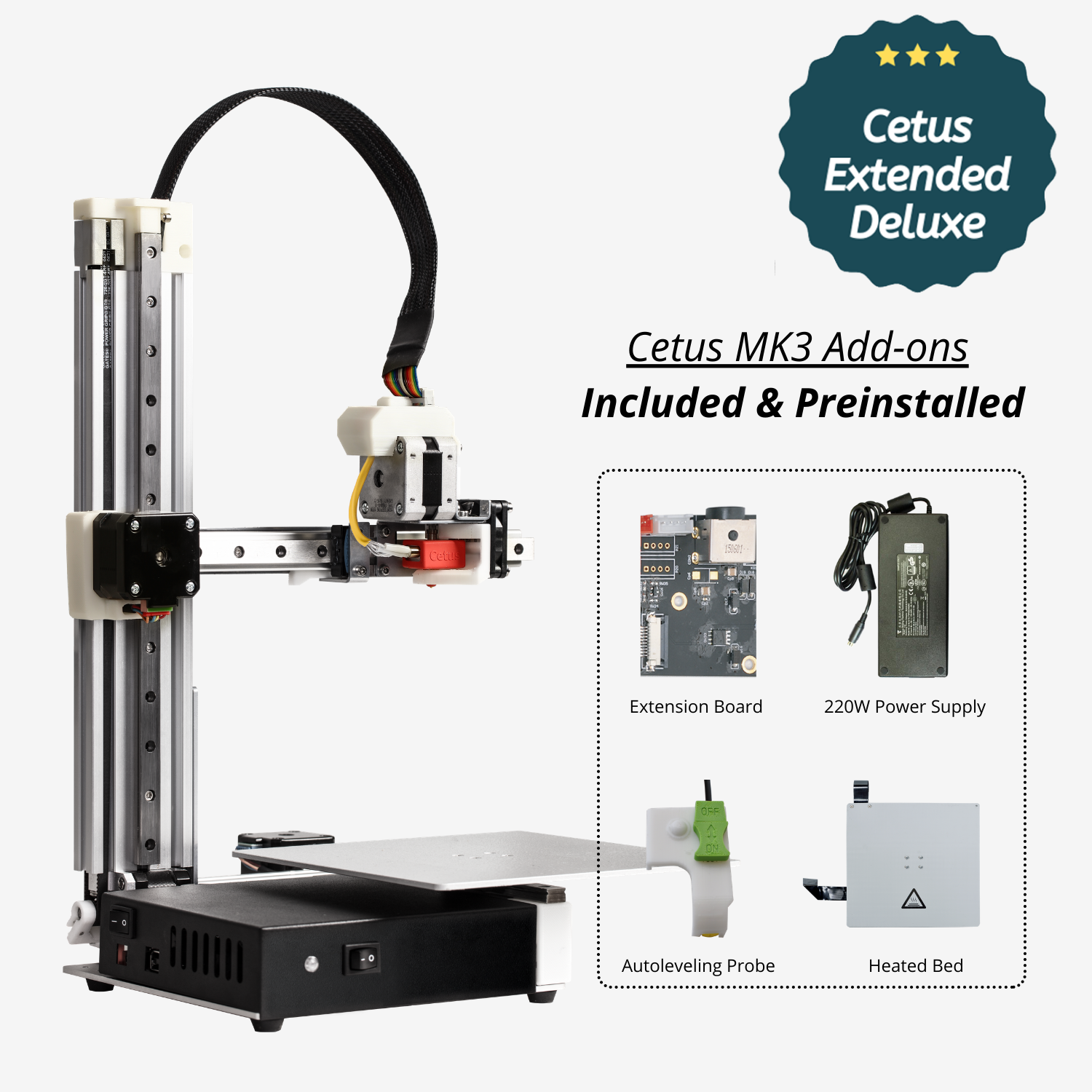 Build Volume:180(L)x180(W)x280(H) mm
Cetus MK3 Four Versions Comparison
Cetus MK3 - Installation Tutorial
For Deluxe Verison users, as the heated bed and auto leveling probe is not preinstalled, you need to install them by yourself. You can also find detailed installation article by clicking below button.
Cetus 3D Printer MK3 - Features
Modding friendly
Easy maintenance
Small foot print
Precision!Precision!Precision!
9-Point Matrix Leveling
Stainless steel linear rails for high precision printing.
Recirculating linear bearing ensure fast smooth motion.
High quality parts ensure long life span and robustness.
Dimensional Calibration
The printer be default able to provide precision at -/+0.2mm per 100mm.
Our In-App calibration is able to adjust print dimension in X, Y and Z directions, very useful to obtain good tolerance for functional assemblies.
9-Point Matrix Leveling
Divide the plaftorm into 9 regions and compensate the uneveness.
Ensure dimensional accuracy of prints.
Perpendicularity Calibration
In App function allows user to check and calibrate the angle of vertical features to platform, making sure the perpendicularity are maintained along Z axis.
Three Ready to Use Nozzle Options
Support a Variety of Materials
ABS

*

ASA

*

HIPS

*

PP

*

PA/Nylon

*

Metal-filled

**

Fiber-filled

**
*Represents heated bed is required **Represents Steel Nozzle is suggested to use
Effective Coated Build Plate
Easy To Remove
Durable
Sticky to PLA & Other Materials
Tolerant to Nozzle Height Error
Upgradable to Full Power Heated Build Plate
Cetus 3D Printer MK3 Milestones
Our dedication to Cetus lines is still going STRONG!
Cetus 3D Printer MK3 Advanced Features
Easy Removable Smart Support and Support Editor
Support structures are automatically generated and easy to remove.
User has freedom to modify support angle, area and delete specific supports.
Single Print Job,
Multiple Print Settings
Able to print multiple parts in a run, each part could have its own print parameters.
Individualize the parts' print setting to give better results!
Custom Material Profile
Fine tune print parameters for 3rd party filaments.
Significantly expand material compatibility.
Only available on Windows version of software.
Cetus 3D Printer MK3 - New Optional Upgrades
Cetus MK3 Heated Bed
Support More Difficult-to-print Materials like: ABS, ASA, HIPS, PP, PC, PA/Nylon, Metal-filled, Fiber-filled
Require Cetus MK3 Extension Board to work
Require power from a 24V External Power Supply
Auto Calibration Probe
The first probe on market that can do nozzle height detection and leveling in a single automatic process.
Require Cetus MK3 Extension Board to work
Optional 220W Power Supply
Work with Cetus MK3 Heated Bed
Drive heat build plate to 100 ℃. Better performance when printing ABS.
V2 Hotend
Able to use steel nozzles for printing abrasive material and support softer materials.
Supports all Cetus printers ( MK1,2,3), just swap out the old hotend to upgrade!
Open Source CPU
Convert MK3 into a complete open source 3D printer
Use smoothware firmware
WIFI enabled
Support Simplify3D, Slic3R, Cura, Octoprint and etc
When installed, printer will NOT be compatible with UP Studio, Heated Bed and Auto Leveling Probe
A 4.3″ full color touchs-creen control with Plug and play installation. let you control the printer without a computer and see the printer status in real time.
Cetus 3D Printer MK3 - Optional Modules Compatibility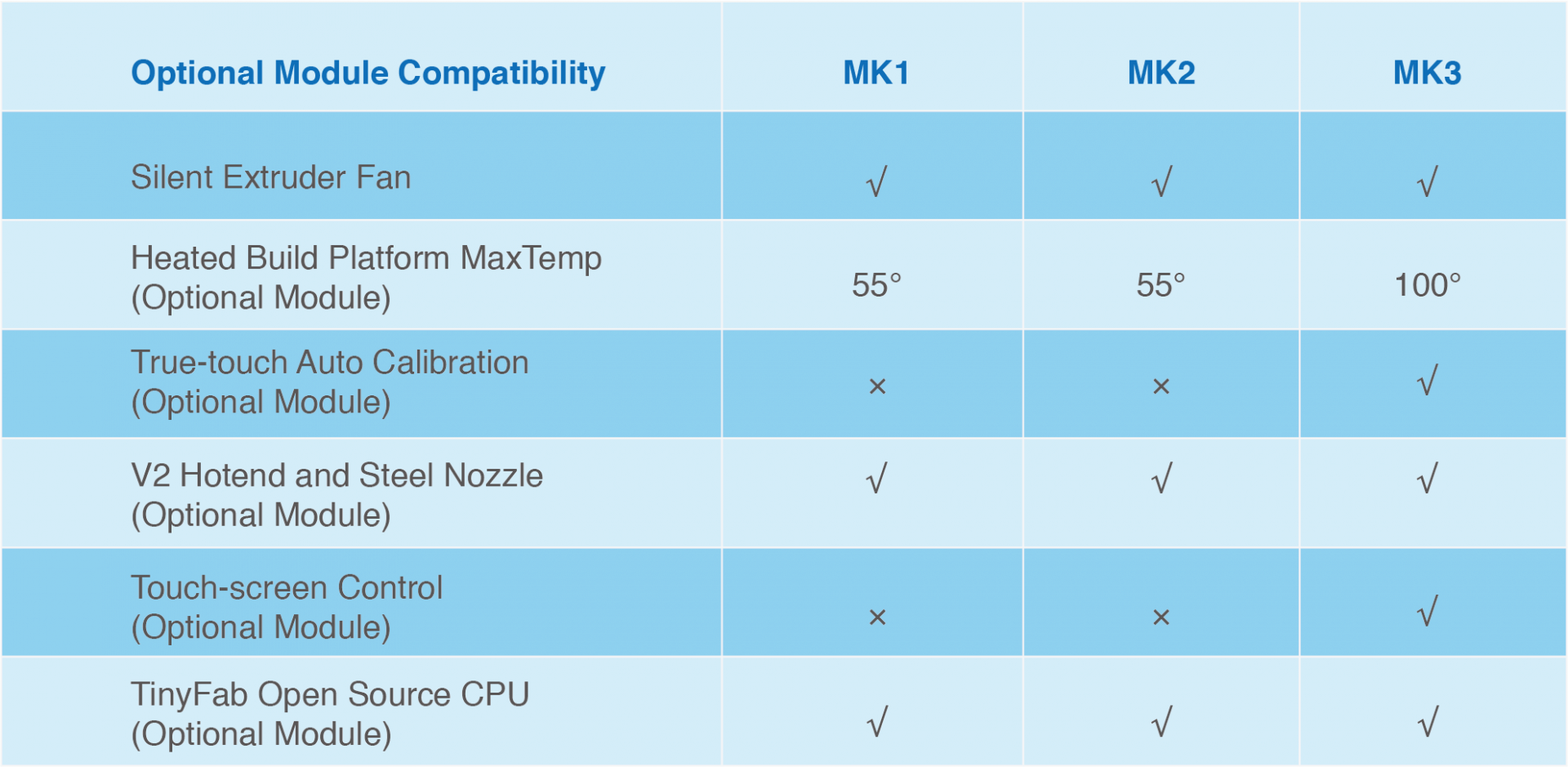 What's New on Cetus 3D Printer MK3
NEW: V2 Hotend support hardened steel nozzles to print abrasive materials
NEW: Support True-Touch Calibration probe, measure leveling and nozzle height values in a single process. Level the platform with 9 point matrix leveling.
NEW: Tinyfab CPU now supports MK3. It turns Cetus into a fully open source compatible printer. With this mod the printer will natively support Gcode printing and directly controlled by popular opensource/Reprap based softwares/mods such Simplify3D, Cura, Slic3r, Kisslicer, Repetier host, PrintRun, Craftware, Octoprint, Mosaic and etc.***
NEW: Full power heated build plate upgrade, can be controlled by software and heat up to 100C. Enable printing more difficult materials such as ABS.
NEW: 4.3" Colored Touch-screen control allow quick operation and show printer status.
– Compact form factor with relatively large build volume, small foot print easily fit on desktop or anywhere.
– Plug and Play printing experience, excellent out of box print quality.
– Minimal, open form, modular design allows easy maintenance, upgrade and modding.
– Fine controlled direct drive extruder (1.75mm filament) with a compact design and well tested by the market for reliability.
– 3 nozzle options (0.2mm, 0.4mm, 0.6mm included) with optimized profiles. Gives you highly detailed prints or fast draft.
– Special build platform coating firmly hold the print while allow easy removal.
– Support a large variety of materials: PLA, PET, PETG, TPU, TPE, PVA, ABS*,ASA*,HIPS*, PP*, PC*, PA/Nylon*, Metal-filled**, Wood-filled, Fiber-filled**
– Connect by USB or WIFI, support Window and Mac.
– Easy to use UP Studio 3D printing software with advanced functions eg. Smart Support Generation, Support preview and editing, Material profile manager, Task file formt for project sharing and monthly updates of software.
– Professional support team with quick response.
– Fast shipping, fullfilled from local warehouse, easy to get spare parts and accessores.
Cetus 3D Printer MK3 Reviews
Cetus3D every version comparision from Maker's Muse, Cetus 3D Printer MK1 & MK2 & MK3
Cetus 3D Printer MK3 Prints Videos
Cetus MK1 & MK2 Reputation
Cetus 3D Printer was born to be a minimalist 3D printer for you and ourselves. Equiped with stainless steel linear rails, gives high precision, stable printing, small footprint and quiet operation make it an ideal desktop 3D printer.
Before Cetus MK3 was released, its previous version – Cetus MK1 & MK2 has gained a good reputation from market.
It (Cetus MK2) isn't sexy. It hasn't gained a lot of widespread appeal because it doesn't have an interface and it's PLA only with a non heated bed. But look, I keep mentioning it in my videos because it print like a boss.
In September 2016, Maker's Muse, one of best 3D Printing Youtube Channel, released the first review for Cetus MK1 Pre-production version before we launched the successful Kickstarter Campaign in 2017.
In December 2018,  Maker's Muse threw the challenging Christmas Lattice Torture Test at 5 of his 3d printers to see how they handled it. The results were WILDLY different. How Cetus MK2 performs? Check it!
Prints Gallery by Cetus Creative Users

 
 
MK3 Standard Version
MK3 Extended Version
 
 
MK3-01
MK3-02
Printing
Printing Technology
Melted Extrusion Modeling (MEM)
 
Build Volume
180(W)x180(H)x180(D) mm
180(W)x280(H)x180(D) mm
 
 
7" x 7" x 7"
7" x 11" x 7"
 
Print Head
Single
 
Nozzle Options
0.4mm/0.2mm/0.6mm
 
Layer Thickness
0.05/0.07/0.10/0.15/0.20/0.25/0.30/0.35 mm
 
Supporting Structure
Smart Support Technology: automatically generated, easy to remove
 
Platform Leveling
Manual Alignment and Software Assisted Leveling
Optional auto leveling probe
 
Build Platform
Options
Non-heated, Aluminum build platform with special adhesive
 
 
Heated Build Platform (sold separately)
 
Untethered Printing
Yes
Consumable
Supported
Printing Material
PLA and Customizable Materials Profiles
Software
Bundled Software
UP Studio, UP Studio iOS APP
 
Compatible Formats
3D formats: STL, UP3, Gcode
 
 
2D formats: JPG, BMP, PMG
 
Connectivity
USB, WIFI
 
System Requirement
Windows 7 SP1 or later
MAC OS X10.10 or later
iOS 8.0 or later
OpenGL 2.0
 
Supported 3rd Party Software (Gcode only)
Simplify 3D, Cura, Slic3r
Power Supply
Power Adapter
110-240VAC, 50-60Hz, 90W  (Optional 220W Power Supply)
Mechanical
Chassis
Aluminum Extrusion
 
Gross Weight
5.5KG/12.1LBS
6.0KG/13.2LBS
 
Dimension
10.5" x 10.75" x 10.5"
10.5" x 16.8" x 10.5"
| | | | |
| --- | --- | --- | --- |
| Location | Warehouse Location | Shipping Region | Warm Notes |
| China | China | More than 90 Countries and Regions in the World | Customs fee and taxes may be collected by local Customs according to your country's import policy. |
| United States WH1/WH2 | U.S. | 48 contiguous states, Alaska and Hawaii | Import Duty included in product price |
| UK | United Kingdom | United Kingdom | All orders will be charged of 20% VAT when checking out. |
| Germany | Germany | EU countries, Switzerland, Norway, Liechtenstein | All Germany customers need to pay VAT. Other EU customers can be VAT exempt if you can provide valid VAT info at checkout. |
| Australia(N/A) | Australia | Australia | Import Duty included in product price |
| Japan(N/A) | Japan | Japan | Import Duty included in product price |
| Brazil(N/A) | Brazil | Brazil | Import Duty included in product price |
| Russia(N/A) | Russia | Russia | Import Duty included in product price |
Shipping & Order Processing Time
We accept return within 30 days upon delivery date.
To be eligible for a return, your item must be unused and in the same condition that you received it. It must also be in the original packaging.
If you wish to return an item, you must contact us first at support@tiertime.com to obtain an Return Merchandise Authorization (RMA). Returns without authorization are not eligible for refund.
20% of item net value will be deducted as restocking fee.You also need to be responsible for return shipping costs and we can not refund any shipping costs.
Defective Items Return Policy
If you are unhappy with our product but have already used it, please feel free to contact us so we can find an appropriate solution. You can email us at support@tiertime.com, we are happy to help!
Defective/ damaged items are returnable within 30 days of the delivery date. Returns of items without obvious defects will subject 20% restocking fees and will be deducted from the amount of refund.
Please note that you will be responsible for the return shipping costs and we cannot refund any shipping costs you originally paid to receive the order. Only the price of refunding item will be refunded.
All returns, refunds and exchanges are processed within approximately 7-10 days upon arrival at our distribution center.
https://support.tiertime.com/hc/en-us/categories/360000202614-Cetus